The various charging technologies
The right charger for any requirements
Charging devices for smartphones and tablets are ten a penny. But not all chargers are created equal. Which charger fits which terminal device? Which charger lets you charge the fastest?
Here we'll give you an overview of our range of products and a step-by-step guide to finding the correct charging device as quickly as possible.
Our motto: The right charger for any device!
The three speed levels
We have chargers available in three different speeds. The main criterion differentiating the three speeds is the charging speed. Depending on the type of plug or socket, various technologies and amperages can be used to get optimal charging results.
So in order to determine the perfect charger for you, you just need to know what connector your device has, what type of charger you want, and what charging speed you prefer.
Speed / connection
Lightning
Wireless Charge
USB Type-C
Micro-USB
Turbo Fast Charge
–
3 Ampere / 15 Watt
Qualcomm*
QC 3.0
QC 4.0
Power Delivery
Qualcomm*
QC 3.0
QC 4.0
Ultra Fast Charge
2.4 Ampere / 12 Watt
1.5 Ampere / 13.5 Watt
3 Ampere / 15 Watt
2.4 Ampere / 12 Watt
Fast Charge
1 Ampere / 5 Watt
1 Ampere / 5 Watt
–
1 Ampere / 5 Watt
1.2 Ampere / 6 Watt
* See below explanation
Overview of the four types
The right charger for any device
We have the right charger for any device! The products in our range are differentiated by the type of connection they use (Lightning, Wireless Charging, USB Type-C or Micro-USB) and their charging speeds (Fast Charge, Ultra Fast Charge or Turbo Fast Charge).
So you're guaranteed to find just the right charger for your smartphone or tablet.
In a nutshell: What is Quick Charge?
Quick Charge is the fast charging technology of the manufacturer Qualcomm. Quick Charge technology delivers faster charging speeds than conventional chargers by means of higher voltage.
Quick Charge 4+
Even faster and more efficient
Qualcomm has improved its new fast charging technology for smartphones. The latest version is called: Quick Charge 4+.
Quick Charge 4+ has three benefits: Devices do not heat up so much during charging; the charging process is faster and more efficient.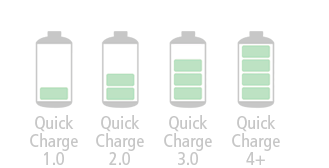 Prerequisites for Qualcomm Quick Charge 3.0/4.0:
Your terminal device must be compatible with the technology. A list of compatible smartphones can be found here.
It is constantly updated.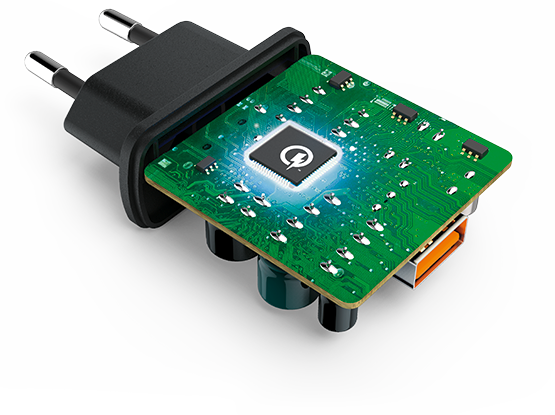 What is Power Delivery?
Power delivery, or USB PD, is a charging technology.
PD works only with USB Type-C cables and connectors. This charging technology allows even faster charging and delivers more power to large devices such as laptops.
Extremely fast charging
Universal solution

Fast charging
What is Qi charging?
The word Qi comes from Chinese and means "life energy".
Here it refers to energy transfer by induction. Qi is a standard that allows many different smartphones to be charged using that same induction charging device.
The big advantage of charging by induction is that a smartphone can be charged without any annoying cables being involved.
Consumer information
The smartphone must be compatible with Qi.