Smartphone display protector
Why you should protect your smartphone display
Your smartphone is, quite simply, your daily companion. You have it with you in every situation, whether in everyday life, at work, during leisure activities or when doing sport. It is hard to imagine life without smartphones.
The display is probably the most sensitive part. To prevent damage such as scratches or even display breakage, a resistant display protector is necessary. Through our many years' experience in the area of display protection, we know exactly what protecting the mobile device comes down to. Hama is the right partner for you.
Types of display damage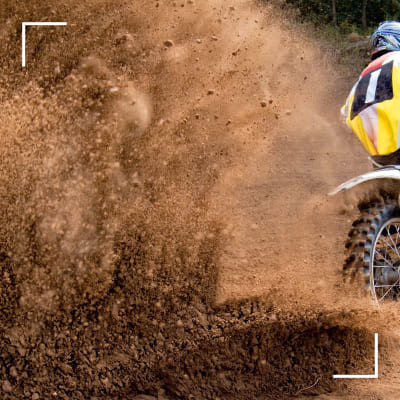 Dirt
Fingerprints and minor scratches
Medium to deep scratches
Display breakage
A smartphone's display can get damaged during sport, active leisure pursuits or simply in everyday life. You take your smartphone out of your handbag, jacket or trouser pocket several times a day, in order to check e-mails or social media channels, send messages or take photos. In addition, it comes into contact with your house key or debris in your handbag. Just about every mobile phone has at some time been dropped. All these things cause, to a greater or lesser extent, damage to the display. But even the smallest damage to the display gives you grief and decreases the value of the smartphone.
Display breakage is the most frequent type of damage, and unfortunately it is also the most expensive. Often you are not even personally to blame for the damage. Careful handling does not always help – almost half of damages are not caused by the owner.
Avoid the costs of expensive repairs
If the display is broken, then you have to get it replaced, as you can't do anything with a shattered display. The average costs for a display repair are approximately EUR 300. A hefty bill that you can definitely avoid! The price of a glass display protector from Hama starts from just EUR 14.99. So with a display protector from Hama, you save yourself over EUR 280 – money you can put to good use elsewhere.
Smartphone costs using the Samsung Galaxy S10 as an example
The big benefit
From getting display protection
A good display protector not only saves you money and hassle, but can even earn you money. It is profitable, as a flawless display increases the resale value of the smartphone.
On many smartphones, the front consists almost entirely of the display surface – these devices are even more in need of protection. It's not just about good looks: The protection of hidden sensors or camera lenses is particularly important. On the Samsung Galaxy S10, for example, the fingerprint sensor is on the front display, as is the excellent front camera. A scratch is not only unsightly here, but also impairs functionality.
Perfectly fitting display protector
for every smartphone
Apple, Samsung, Huawei … – every smartphone is different and has its own display characteristics. To cater for them all, we develop an appropriate display protector for almost every model. In this way, we ensure that the display protector adheres perfectly and your mobile device is optimally protected.
The perfect display protector
for your requirements
Which display protector is right for you will depend entirely on your protection requirements.
Do you need strong and very reliable protection strong and very reliable protection, as you use your smartphone not only privately but also a great deal for work, and there's always the chance of damage? Whether it be through wet hands after washing, or by accidentally sitting on it. Or would you rather have a very thin display protector very thin display protector that is barely noticeable on the smartphone?
Screen Protective Glass
Screen Protection Film