Digital Picture Frames
The right frame for any requirement
HOW DO I FIND THE RIGHT DIGITAL PICTURE FRAME?
Which digital picture frame is best for showing photos from my holiday? Which is more commonly used for advertising purposes? And which frames allow you to do much more than just look at pictures? Choosing one isn't easy, but with our helpful guide, you'll be sure to find the right digital picture frame.
KEY CRITERIA AT A GLANCE
DISPLAY SIZE
Whether you want to use your digital picture frame for holiday and family photos in your office, or set it up as a moving painting in your living room, the display size plays an important role. The display size is almost always specified in inches, but we've included the size in centimetres so you can get a better idea of the display. Our digital picture frames are available in the following sizes:
7 inches, 17.78 cm
8 inches, 20.32 cm
10 inches, 26.64 cm
12.1 inches, 30.73 cm
13.3 inches, 33.80 cm
15.6 inches, 39.60 cm
17.3 inches, 43.94 cm
18.5 inches, 47 cm
RESOLUTION (IN PIXELS
Let's stick with the moving painting: if the size is 15.6 inches or more, the resolution should be particularly high. As a rule of thumb, the larger the display, the higher the resolution should be – this is the only way to view your pictures with perfect quality. The resolution is specified in pixels. For example, a digital picture frame with 10 inches offers a sharp HD resolution at 1024 x 768 pixels.
FORMAT
You can't go wrong with a 4:3 format, because this is the exact format digital cameras take pictures in – so there are no ugly edges when they appear in the digital picture frame. Do you just want to show pictures, or also videos with background music? If you want to include videos and music, pay close attention to the media formats the digital picture frame can play. There are image formats (JPG, BMP), video formats (AVI) and audio formats (MP3, MP4).
CONTRAST & BRIGHTNESS
The contrast and brightness play a key role in displaying sharp, detailed photos. The contrast value refers to the brightness ratio between the black and white pixels. The minimum value you need is 300:1. The higher the value is, the better and more detailed the contrast will be. Hama's digital picture frames feature impressive contrast values between 350:1 and 1000:1.
DATA TRANSFER & STORAGE
Of course, the more pictures you want to enjoy in your digital picture frame, the more storage space needs to be available. Some devices have an internal memory. The advantage is that you don't have to buy an additional memory device such as a memory card or USB stick. Ideally, the internal memory should offer at least 1 GB. Naturally, more storage space is better, for example the Hama frames with 2 and 4 GB. However, if you want to display a really large number of images and videos, a frame with an internal memory will soon reach its limits. That's why most digital picture frames also come with a memory card slot and a USB port. This way, you can connect other storage devices with your best photos at any time, without having to transfer data using your PC or notebook.
DESIGN
Like their analogue counterparts, digital picture frames should fit perfectly into the look of your home, or be a stylish, decorative eye-catcher. Frames with a slimline look go with any interior design concept, while the versions made of brushed steel or with a piano finish are accessories that are guaranteed to catch everyone's attention.
WALL MOUNTING
On the wall, a digital picture frame seems like a painting. However, if you are mounting it on a wall bracket, it's very important that you pay attention to the VESA standard. This number is specified on the device or in the packaging, e.g. VESA 75 x 75 mm – meaning that the spacing between holes in the wall bracket must also be 75 x 75 mm. Very convenient: for wall-mounted frames, make sure a remote control is included for easier operation. If the digital picture frame doesn't have a VESA standard, you can't mount it in combination with a wall bracket.
FEATURES & FUNCTIONS
If you expect much more from your digital picture frame than just pictures, videos and music, you'll love the wide variety of additional functions: calendar, clock, rechargeable battery and/or battery support, weather station. This way, you have far fewer objects cluttering up your desk and dresser, and you can see everything that's important at a glance.
CATEGORISATION OF OUR DIGITAL PICTURE FRAMES
Our digital picture frames are divided into three categories: Basic, Premium and Special. But what advantages do the individual models offer?
BASIC – DIGITAL PICTURE FRAMES FOR PHOTOS
See all Picture Frames
If you want to see the best pictures of your family, children, holidays, dog or cat on your desk at work or on your nightstand, the digital picture frames from the Basic category are just what you need. The focus is on displaying your pictures attractively.
You can play back your entire collection of digital photos from a USB stick or memory card.
Various effects help you to design the perfect slideshow – just right for your colourful variety of pictures. Special transition effects make the show particularly exciting.
Thanks to the adjustable display time, you can enjoy the pictures of your last holiday for as long as you want.
Zoom, split screen mode (multiple photos in one view) and shuffle provide a very special look at your memories.
The timer function allows you to define when the digital picture frame turns on our off so you don't have to remember to do it yourself.
Presenting your pictures attractively is just what the digital picture frames in the Basic series do best.
Energy-saving LED display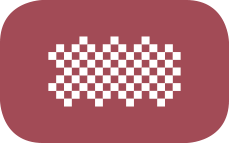 Resolution in pixels
Slim design
Clock / calendar / alarm
PREMIUM – DIGITAL PICTURE FRAMES FOR PHOTOS, MUSIC AND VIDEOS
If photos in the digital picture frame aren't enough for you, the Premium category has even more to offer. The slideshow is much more interesting if a video is included – add the right music in MP3 format and the excitement knows no bounds.
Those who want really good sound to go with their photos or videos can also connect the digital picture frame to their hi-fi systems. Creatively combining music, pictures and videos produces a very special emotional experience.
Some of the models have an integrated HDMI™ interface. With the included high-quality adapter cable, you can connect other devices with HDMI™ connections, e.g. Blu-ray players, DVD players or SAT receivers. This is especially convenient if the family is using all the TVs in the house and you want to watch your favourite film in peace or work on a business presentation.
Thanks to the calendar and clock function, you'll always be up to date. The integrated alarm offers a great wake-up call. You can add your own pictures for both functions. This way, you can get up with your eyes on your favourite photos for a good start to the day.
The digital picture frames in the Premium category are little media players equipped with practical functions that eliminate the need for many other devices.
Music & video
Internal storage
SPECIAL – DIGITAL PICTURE FRAMES FOR PHOTOS WITH MANY ADDITIONAL FUNCTIONS
The digital picture frames from the Special category offer a portrait frame format that stands out as a high-end decorative element in your living room.
The digital portrait frames make not only your living room, but also you look good – no matter what the weather's like. With a weather station or weather forecast, you always know whether to go out in just a t-shirt or put on a jacket first.
Thanks to the calendar and clock function, you'll always be up to date. The integrated alarm offers a great wake-up call. You can add your own pictures for both functions. This way, you can get up with your eyes on your favourite photos for a good start to the day.
Elegant, tasteful accessories with unique highlights: the digital picture frames in the Special category.
Weather station
Timer switch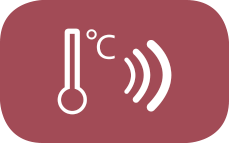 Indoor & outdoor sensor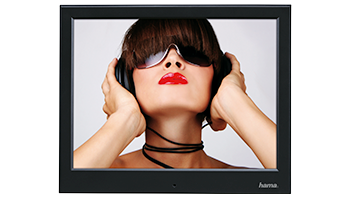 Basic
Digital picture frames for displaying photos attractively
Show all...
FEATURES AND WHAT THEY MEAN
This section offers you an overview of the key functions and additional features that our digital picture frames offer.
Energy-saving LED display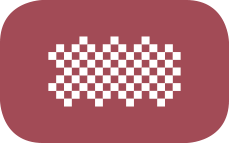 Resolution in pixels
Music & video
Timer switch
Weather station
Auto start
HDMITM-input
Slim Design
Internal storage
Night modus
Light sensor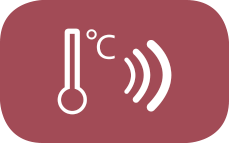 Indoor & outdoor sensor
Clock / calendar / alarm
Full HD video compatible
We have listed for you our current photo frames in a structured matrix. You can download it easily::
Download >