Active Line – smartphone sports accessories
For more fun and convenience when doing sport
Whether we jog, work out in the fitness studio or overexert ourselves playing beach volleyball – sport keeps us fit and helps us escape from everyday life. Sport is not just about power and muscles – it's also about endurance and discipline. The right measure of fun is also part of it, as is the right equipment. For optimum support in your physical activities, we offer a range of practical smartphone accessories called Active Line. So you can get off to a good start!
Outdoor cases
Protection without compromises for smartphones
Whether you're on the beach, in a boat or skiing – your smartphone can come into contact with water. We want to save you incurring unpleasant and expensive damage: Pack your smartphone in our outdoor case and it will enjoy all-round protection in accordance with the high IPX8 standard. This standard protects against dirt, water and continuous immersion. There is no higher standard for everyday items. So if your smartphone is lying inside the case on a beach and is washed by a wave, the device is safe from water damage.
To all articles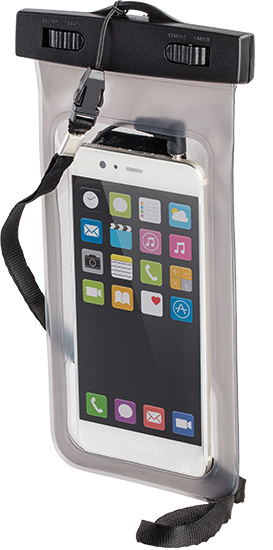 Sports armband case and waist bag
More freedom of movement in sport
Whether you go jogging in the woods or burn off energy in the fitness studio – your smartphone always does what you do. Armband cases and waist bags are practical for every sports enthusiast. Your smartphone is kept safe in an armband case, and a waist bag provides enough room for your smartphone and other important things, such as keys or tissues. Everything is designed so that nothing gets in the way during sport.
To all articles
Smartphone holder
Secure attachment of your smartphone
You are riding your mountain bike in the mountains or completing a timed route with your racing bike. In any event, you always have your smartphone with you. If you use your smartphone for navigation while cycling, you should forget about holding it in your hand. This is dangerous and is not allowed for good reason. With our universal bicycle smartphone holder, you are perfectly equipped for your tour.
Or you're on a hike and want to shoot shake-free photos - then our smartphone tripod is perfect for you.
Sport earphones
Music enjoyment for the perfect motivation during your workout
You can more easily free your mind through sport if you have the right soundtrack. Tiresome cables that swing around with your every step just bother you. That's why we embrace Bluetooth. Dangling cables? Not from us! The upper part of the cable is shaped into ear loops that run behind the ears and converge at the neck – thanks to the Bluetooth connection, more cable is not needed.
To all articles
Fitness Tracker
To control the body functions for a healthy everyday life and sport
You have been infected by the fitness bug and finally want to do more for your body, become fitter and more active? Or you want to improve your performance so far? Then use the sports watch. With the many features of the fitness bracelet, you can monitor and optimise each stage of your physical fitness. Whether you now use the stairs instead of the lift, swing yourself onto the saddle rather than take the car, or extend your evening walk with the dog into a marathon – everything is stored and made comparable. The i-gotU Life app makes this possible. The fitness watch is easily linked to your smartphone via Bluetooth.
To the article