Fast-charging Android smartphones
It couldn't be simpler!
Hama helps you choose the perfect charger
In a hurry and your battery is almost flat? The quick-charger powers up your Android smartphone in no time at all. Whether you need your smartphone for your next meeting or the following morning. Almost all smartphones are compatible with quick charging. Let us explain how it works.
See here to find out whether your smartphone is compatible with the latest quick charging technologies.
Are you an Apple user? If so, you can benefit from power for your iPhone.
The fastest way of charging your smartphone
Our chargers guarantee a fast yet safe charging process for your smartphone. In general, it is difficult to calculate time savings in minutes or as a percentage. Charging times are always affected by a number of factors:
Size of the batteries
Charge state
External influences
(temperature etc.)
Systems running in the background
(navigation systems, Spotify etc.)
Almost 50% charge in less than half the time
Let us demonstrate how you can save time with our quick-chargers.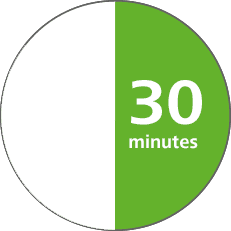 Boost the power of your smartphone in just 30 minutes

During testing, the smartphones were charged using both chargers with exactly the same settings and a battery charge of 0%.
After half an hour, the smartphone users could be confidently on their way with an average battery charge of 40%. Hama quick-chargers provide maximum safety by individually adapting the charging current and monitoring the temperature throughout the charging procedure. Note: Although the standard charge is always the safest, it takes a lot longer. Our quick-chargers supply your smartphone with sufficient power to last the day in next to no time.
How do you recognise an Android smartphone?
Various charging technologies and connection sockets currently exist. This often makes it difficult to keep up-to-date and find the best possible charger for your smartphone. You can identify an Android smartphone at a glance. It either has the old micro USB port or the new USB-C port. You can also quickly identify an Android smartphone from the design of the operating system.
Android
Micro USB
USB-C
Apple iOS
Lightning
All-in-one solution
Guaranteed quick charging with our best charging devices
If you need a compatible charger to charge your smartphone quickly, Hama is sure to have the perfect solution. Our top-of-the-range chargers are equipped with the new Qualcomm® Quick ChargeTM and are PD- and universally compatible. Charge your smartphone or devices belonging to friends and family at any time at maximum speed. The charger automatically detects the optimum charging current for the connected device and adjusts it accordingly. This prevents your smartphone from overheating during charging and protects the battery. And if you are in a hurry, our chargers can provide sufficient power in next to no time.
Of course, we also offer car chargers that satisfy the current quick-charging standards. Your smartphone will be supplied with maximum power even when you are on the move and with navigation systems or other programs running in the background.
The all-rounder
Our product recommendations
See below for our guide to compatible charging cables. Always make sure that your Android smartphone has a USB-C or a Micro-USB port. The maximum charging speed can only be achieved with a USB-C port.
Quick-charger
Quick-charging cable
Maximum charging power
Our vast range of quick-chargers
In addition to our latest generation of top-of-the-range chargers, we also offer a broad choice of other charging devices. Guaranteed quick charging at home and on the move.
Please refer to our compatibility list to find charging technology compatible with your smartphone.
View our chargers
View our car chargers
Do you want to find out more about charging technology?
The latest in maximum charging power
TOne goal, two ways. There are essentially two main charging technologies – Power Delivery and Qualcomm® Quick ChargeTM. Both offer extremely fast charging that is gentle on the batteries. Increasingly, the chargers we offer are combi chargers that support both technologies. The advantage is that you can fast charge your smartphone even if you do not specifically know which charging technology is appropriate for your device.
Qualcomm® Quick ChargeTM and Power Delivery enable charging of 5–20 volts and up to 5 amperes. With Qualcomm® Quick ChargeTM, a maximum charging power of 27 watts is possible, while Power Delivery supports an output power of up to 100 watts. This is enough power to fast charge larger devices, such as tablets or notebooks.